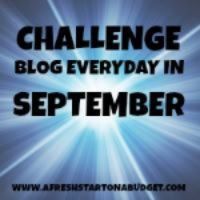 Day 1 (Sunday): Give me your life story in 300 words or less.
I was born and raised in a small town in Western North Carolina, I had one younger brother and a HUGE extended family.
I met and started dating my husband (who was actually an old school mate) in 2006, during my senior year of high school and we were engaged exactly one year later.
We got married in September of 2007 and have had an incredible adventure during our lives together. I worked at a law firm as a receptionist, in a child care center during the summers, at a cabin rental company when we moved to a new state, and then I went back to school at a local community college in 2009.
Shortly after I went back to school we conceived Boogie. It took us nearly 3 years to finally conceive Boogie, she was our miracle baby!
Then 15 months later we conceived Bubby, he wasn't nearly as difficult to come by as his big sister was! After 3 ½ years I completed my Associate in Arts Degree (fancy way of saying I finished my general education so that someday I can go back and get my Bachelor's in whatever…), and let me tell you something. It is HARD going to school with a toddler running around!
So here we are, I'm 25 years old, a stay at home mom, a blogger, a dreamer, a child of God.