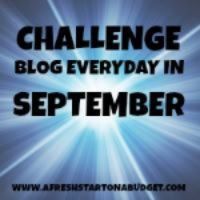 Day 3 (Tuesday) : Why did you start blogging?
I started this blog in April of 2008, just a little less than a year after we got married. We were getting ready to move to Tennessee and I wanted to document our lives for our friends and family back home. It was off and on from then on, I wrote a lot more once we conceived Boogie, if you look back you'll find LOTS of posts about her! Since then it's been about documenting our lives, adventures, trips, and pretty much everything we do for our kids. I love that I can also have the opportunity to review products and even give some away! Speaking of giveaways… Don't forget to check out my 200 Facebook Fan Giveaway HERE
And unfortunately, I don't have any photographs from our time in Tennessee…. so instead, since I just HAVE to have photos in every blog entry (haha!), how about more of my sweet kiddos?