Yes, it's true…. we have jumped onto the Elf on the Shelf bandwagon. BUT, we are doing much differently than most, and I can thank A Small Snippet for her post on how they do things with their elf, Eli. J and I wanted to try this whole elf things out, but we were just not okay with the whole naughty and nice list. Using Santa's list as a tool to discipline your children… no thanks, I'll stick to time outs and lost privileges, but I'm not going to tell my children that if they do something naughty that Santa won't leave them surprises under our tree. I don't see how that is teaching them anything. We also wanted to use our elf to help teach our children about God's love and what the true meaning of Christmas was all about.
I used Leana's (the momma from A Small Snippet) letter and changed it a little to suit our needs. I didn't want to change a whole lot, because really…. she did an amazing job wording it for her children. When trying to decide how we wanted to use our elf to share Jesus with our kids, I knew I wanted Santa to tell the children that he too was a Christian, and that because he was a Christian he wants to give children grace for their mistakes, just as Jesus does for us.
We hope that by using our elf, whom we named Faith, as an aid to teach our children about grace, love, joy and faith that we will be doing it in a way that they understand and in a way that will stay with them for the rest of their lives. I also hope that by sharing here that our family's new elf tradition will be beneficial to some of my readers out there!
Now, on to Faith! We decided that Santa would deliver Faith the night before Thanksgiving. We had purchased our Frasier Fir earlier in the day and planned on decorating it on Thanksgiving (per tradition of course), so what better day than that?! We packaged Faith with lots of goodies for Boogie, Bubby is really still too young to know what's going on with this whole elf thing yet, so we just threw in stuff for our girl (thank you Target dollar bin!), and a letter from Santa (which I will share). I made a label on Photoshop with the kids' names and our address (which of course I have marked out for privacy purposes) and found some stamp clip art with Santa on it.
J laid it on the front porch, rang the doorbell and raced around to the back of the house where he was bringing wood in for the wood stove. Boogie didn't know what was going on when we rang that bell, she was a little unsure of seeing who or what was at the door. Once she saw the box and I told her that it said it was for her and Bubby she immediately snatched the package and was ready to open it and see what was inside! She also said she KNEW it was from Santa since his picture was on it!
The look of excitement on her face when she pulled out Faith… it was incredible. She wanted to hold her and love on her and show her our Christmas tree. (Yes, our elf is being loved on and touched…). We read the letter together, it's a little long, so it was hard to keep Boog's attention, but I know some of it was absorbed by that smart brain of hers!
I found the letterhead on Pinterest, Design Editor did a GREAT job creating this FREE printable! I printed that first, and after I typed up our letter and edited the margins to get it to fit on the letterhead. I'm going to share our letter with YOU as a freebie as well, I cannot take all the credit though, Leana from A Small Snippet really did most of the writing in this, we just edited it to suit our needs. Feel free to edit to suit YOUR needs as well. The font is automatically changed to a basic font on Google Docs, so if you want the same font we used, it's called Pristina (font size 10). You will also have to re-edit the margins to print onto the letterhead.
Download our editable Santa letter HERE or the PDF version HERE from Google Docs!
I will share some of Faith's escapades on a later date, if you want to see some NOW, then you can head over to my Facebook fan page or follow me on Instagram!
Merry Christmas!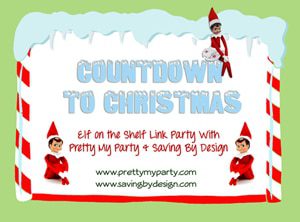 Thank you so much for checking out Mustard Seed Mommy - be sure to check out my social media sites at the right side of this site!