This post may contain affiliate links. Purchasing through them helps support our family and this blog.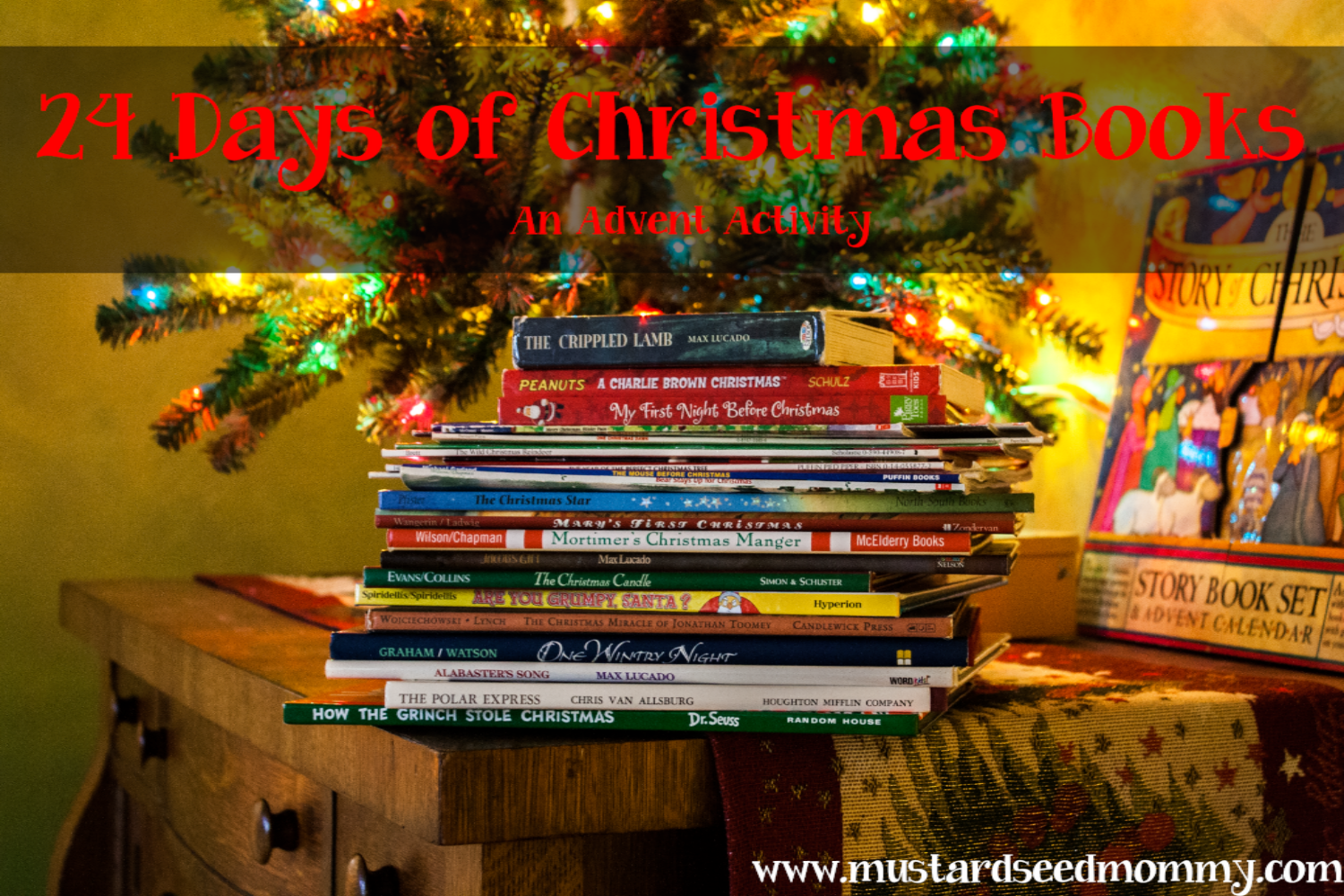 Now that Thanksgiving has come and gone it's time to start thinking about CHRISTMAS! (And if you're a Mustard Seed Kid that also means birthdays!) We celebrate Christmas in many different ways but one of my personal favorites is a tradition that J and I started two years ago. We choose 24 books to read starting on December 1st and every night until Christmas Eve. It's a joy to read so many wonderful books to our children and as a book lover it just makes my heart swoon!
So, here are our top 24 books to read for Christmas!
1. Polar Express by Chris Van Allsbury
This is one of our all time favorites, we like to read this one and then watch the movie with some hot cocoa!
2. One Wintry Night by Ruth Bell Graham
This is an AMAZING book. If I had put these in order of my favorites… this would be number one for sure! The illustrations are just gorgeous, Richard Jesse Watson did a fantastic job bringing Mrs. Graham's book to life. It's also always fun to read a story that's based near your hometown!This is a longer book, we never read this entire book in one night, but I promise you won't regret adding this one to your list!
3. Alabaster's Song by Max Lucado
Alabaster's Song is one of my mom's favorite Christmas books. I remember her reading this to us and she did so with Alabaster's lisp! His lisp makes this a little harder to read, but it's such a cute book. There's even an animated movie based on this book now!
4. The Year of the Perfect Christmas Tree by Gloria Houston
This is another Christmas story that is based in our Blue Ridge mountains!
5. How the Grinch Stole Christmas by Dr. Seuss
I'm pretty sure you can't have a Christmas book list without including Mr. Grinch! Our kids not only love the book, but they also enjoy watching both the live action and animated movies adapted from this book.
6. A Charlie Brown Christmas by Charles M. Schulz
We have the board book version of this book, and I must say it's very well loved! My mom purchased this one for my kiddos, she's a big Snoopy fan.
7. My First Night Before Christmas by Clement C. Moore
We purchased this version of The Night Before Christmas at Babies R Us before Boogie's first Christmas. It's a touch and feel book with lots of sparkly stars and fun touch and feel pages. This is my absolute favorite version, it's great for our little ones and they really enjoy it!
8. The Crippled Lamb by Max Lucado
You really can't go wrong with any of Max Lucado's books, especially his Christmas children's books. This is one of my all time favorites.
9. Wake Up, Santa Claus by Marcus Pfister
This is a fun little book that our kids enjoy. We do like to read a lot of Christian based Christmas books, but this is a fun Santa story that any kid would enjoy.
10. How the Reindeer Got Their Antlers by Geraldine McCaughrean
Another fun book that we enjoy reading!
11. The Christmas Miracle of Jonathan Toomey by Susan Wojciechowski
LOVE the illustrations in this book. It's also a little lengthy but a great book! This one has also been adapted as a movie!
12. Are You Grumpy, Santa? by Gregg & Evan Spiridellis
Boogie giggles through this entire book, she says it's "so silly!"
13. The Christmas Candle by Richard Paul Evans
Another of my favorites, and this one is illustrated with some gorgeous paintings by Jacob Collins. Truly exquisite work he did for this book. And the story is pretty great as well!
14. Olive, the Other Reindeer by Vivian Walsh & J. Otto Seibold
Who doesn't love Olive? We love reading about her many adventures and this one is super fun for the holidays!
15. Jacob's Gift by Max Lucado
Didn't I tell you I like Max Lucado's books? This is another fantastic one!
16. The Wild Christmas Reindeer by Jan Brett
Follow a young girl named Teeka as she tries to get the reindeer ready to fly for Christmas Eve… this book is adorable and my kids laugh at how stubborn those silly reindeer are! Poor Teeka!
17. Mortimer's Christmas Manger by Karma Wilson & Jane Chapman
This is a precious book, Mortimer searches for a warm and safe place to sleep and ends up discovering the true meaning of Christmas in the process. Love love love this book!
18. A Bad Kitty Christmas by Nick Bruel
Bad Kitty is at it again! Who doesn't love reading about the outrageous antics of Bad Kitty? We sure do!
19. Mary's First Christmas by Walter Wangerin Jr.
Once again, another book with some pretty amazing illustrations. I love this story!
20. One Christmas Dawn by Candice F. Ransom
Another sweet story based in the mountains of NC! 
21. Merry Christmas, Stinky Face by Lisa McCourt
We like the original Stinky Face book, so of course this one had to be on our list as well!
22. Bear Stays Up for Christmas by Karma Wilson & Jane Chapman
This one is by the same authors of the Mortimer book above. This is a cute one that we always include in our Christmas countdown!
23. The Christmas Star by Marcus Pfister
I try to save this one for Christmas Eve, this is a great one about Jesus' birth! And this author also wrote Rainbow Fish!
24. The Mouse Before Christmas by Michael Garland
This one is so fun! That little mouse goes on a wild ride with Santa! 
Thanks for checking out our 24 Books of Christmas list! I enjoyed creating it to share with you! Be sure to pin and share this, and please subscribe so you can stay up to date with us! God bless and Merry Christmas!
Thank you so much for checking out Mustard Seed Mommy - be sure to check out my social media sites at the right side of this site!