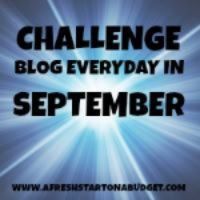 Day 2 (Monday): What is your favorite season? Why?
I LOVE Autumn. I live in the mountains, so around the middle or end of September the leaves on the trees start changing. It's absolutely breathtaking!
The weather gets cooler, the air is crisp, the bugs go away (for the most part)… it's fabulous! J's favorite holiday is Halloween, he loves getting dressed up and having Halloween movie marathons, so now that we are parents his love for the holiday has tripled!
We are planning a party for the four of us, I know Boogie will have a blast! We are also planning a trip to an apple orchard, buying (or picking) pumpkins to carve and paint, and I'm sure once we have lots of leaves in the yard we'll rake them up and play in them!
Autumn is wonderful, I'm so ready for sweaters, boots, and blue jeans!